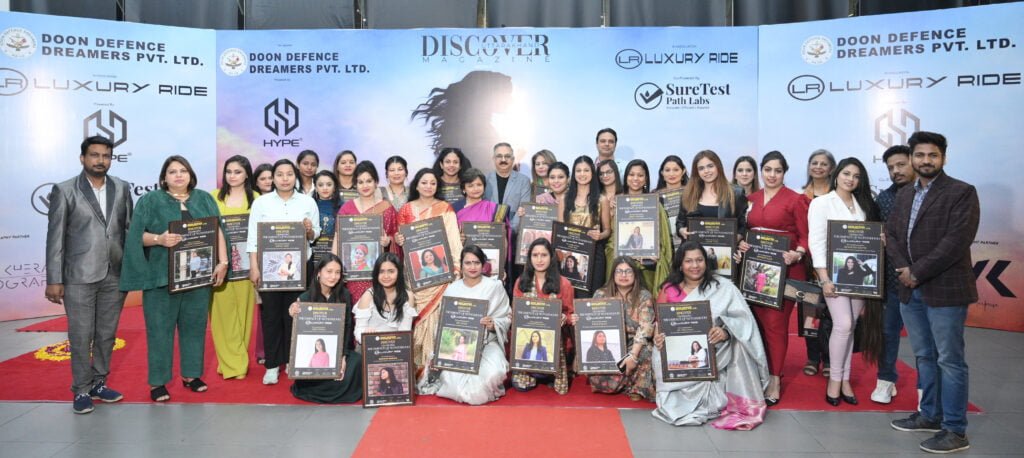 Women's are a full circle, within her is the power to create , nurture and transform. There is a wonder woman inside every woman who does things she believes in. It's just that on most days she wears 'the ordinary ' cloak and we fail to notice what is within.
So it's time to recognize those wonder women and celebrate the essence of womanhood with 'Discover Uttarakhand Magazine
The purpose of the gathering was to reflect, show appreciation, and advocate for women in the community. Women from various fields attended it. To put a smile on those pretty faces, the gathering started off with some fun games. The evening was energised by a number of interactive chit chats and some conversation between the host and the audience.
The event had everything to keep its audience captivated. In order to support and uplift the women we know and to urge those in positions of authority to take action that promotes equality and the empowerment of their female constituents, it is important that we remember to commemorate the outstanding women who have made contributions to this community.
Even though there were numerous women deserving of honour in their field of excellence, we honored some of those, who have made big & sterling achievements in various fields across the city. The event was organised in association with Luxury Ride was powered by Hype footwear, co-powered by Sure Test Path Lab and the Title Sponsor's "THE CELEBRATION OF ESSENCE OF WOMANHOOD" were Doon Defence Dreamers Pvt. Ltd.(www.doondefencedreamers.com)
The Cheif guest for the event was Mr. Bharat Kukreti Ji who is a famous writer, Director, Producer and Author. Bharat Ji is a veteran in Indian television, having donned the creative hat on pathbreaking like shows like Comedy Circus, Comedy Nights with Kapil, and The Kapil Sharma Show. An avid writer and director, Bharat has been the creative and content head on the above shows, and scripted some of the most popular televised events in the country over the years, such as Star Parivaar Awards, Star Screen Awards, Filmfare Awards, ITA Awards and Zee Rishtey Awards.
Event was attended by many famous personalities like Meena Rana and Sangeeta Dhondiyal famous garhwali singers and Shikhanya Mukhiya ; the emerging music artist of bollywood , social media influencers like Tanu Rawat , Ayushi Tyagi and many more wonder women's who have done wonder's in their fields like Akansha Gupta (Modelling Choreographer), Amita Sundas (Teacher and a social worker in Dehradun), Anandita Bharadwaj(Director roti foundation and Rv pacific wines pvt ltd), Ankita Taneja(Co founder Doon Defence dreamer), Anuradha Pal(DM, Bageshwar) , Ayushi Tyagi(Fahion stylist),  Charu Rana(The Mind behind Infinity Salon), Deepa Chawla(Hospitality and tourism), Divya Negi(Representative of uttarakhand in national youth parliament) , Dr. Anupama sharma(A Renowned Interior Designer), Dr.Prachi Chandra(Chairperson Niravadhi), Dr.Vertika Vinay, Esha shrivastav(Co founder of Atul Arts), Harpreet Grover(Owner of Anandam Height resort in Matogi), Ispreet Kaur(Owner of It's a wrap), Jasmine Kaur(Principal of a prestigious institution in Dehradun), Kavita Negi(Salon owner), Kiran singh(Model),  Dr.Lalita(Principal of a prestigious institution in Dehradun), Lubna Mirza(Brand name- shawl story dealing in exclusive and exquisite pieces of shawl) , Maanvi Pourav(curating exquisite jwellery pieces) , Maini Karki(Reiki healer, Reiki maste), Meena Rana(Singer, nightingale of Uttarakhand),   Meetu Bansal(wedding designer), Nebedita Gngly(Scientific grandmaster numerology, life coach) , Neetika Chauhan SAKLANI(Dehradun based Interior designer) , Neha Raj(FOUNDER, BOOKNERD), Prabhjeet kaur( Co- founder Mahendra Production), Pradeepta Ramola(ANCHOR IN Samvaad 365 news channel), Pratibha Thapliyal(Body builder), Priya Gulati(Director Bagit Consulting group, Principal Trustee Tejasvani charitable Trust and Business Association), Ranjana Jain, Reena Prakash Tyagi(Owner of Kebab Cottage ), RJ Devanganna(Radio Jockey), Samiya Khan(Skin specialist), Sangeeta Dhaundiyal( Garhwali Singer), Sikhanya Mukhiya( bollywood singer), Sonali Jain(interir architect), Tannu Rawat (Influencer, dancer), Tanushree Chauhan(Owner of Namaste India tea brand) , Vandana Sharma(Promoting Uttarakhand local culture with handmade products and givimg state a new identity), Varsha Ishan Gautam(Indoor outdoor media company- ms advertising).