Divya Dutta, born on 25th September 1977, is an Indian actress and model known for her versatile performances in various film industries. With a career spanning decades, she has earned numerous accolades, including a National Film Award, a Filmfare OTT Award, and two IIFA Awards.
Early Life and Inspiration
Divya Dutta was born in Ludhiana, Punjab, and grew up in challenging circumstances. Her mother, Nalini Dutta, a government officer and doctor, raised her and her brother single-handedly after her husband's early demise. Dutta often speaks fondly of her mother, who served as both a strong role model and a source of inspiration for her career. Her mother's influence was particularly notable in Dutta's portrayal of a single mother in the 2013 drama film, "Gippi." In a heartfelt gesture, Dutta and her brother compiled their mother's poems into a book as a tribute to her.
Modeling Career
Before stepping into the world of cinema, Divya Dutta began her career in regional television commercials in Punjab. This early experience in modeling laid the foundation for her future success in the entertainment industry.
Acting Career Milestones
Dutta made her debut in Hindi cinema in 1994 with "Ishq Mein Jeena Ishq Mein Marna" and followed up with a leading role in the 1995 drama "Veergati." Although the latter film did not perform well at the box office, it marked the beginning of Dutta's journey in the film industry.
However, it was her role as Zainab in the 1999 Punjabi film "Shaheed-e-Mohabbat Boota Singh" that truly brought her into the limelight. The film, set against the backdrop of the 1947 Partition of India, was a surprising hit, and Dutta received acclaim for her portrayal of a Muslim wife separated from her Sikh husband. Her performance demonstrated her ability to portray complex and emotionally charged characters.
In 2004, Divya Dutta gained widespread recognition for her role as Shabbo in the romantic drama "Veer-Zaara," alongside stars like Shah Rukh Khan and Preity Zinta. The film received critical acclaim, and Dutta's performance as a maid caught in the middle of a love story earned her nominations for several awards, including the Filmfare Award for Best Supporting Actress.
She continued to make her mark in the industry with roles in films like "Welcome to Sajjanpur" (2008) and "Delhi-6" (2009), for which she received the IIFA Award for Best Supporting Actress.
Dutta's ability to excel in character roles became evident in films like "Stanley Ka Dabba" (2011) and "Heroine" (2012). In the latter, she played the role of Pallavi Narayan, a PR manager, and her performance was widely praised, earning her an IIFA nomination.
In 2013, Dutta's career reached new heights with her role in the biographical sports drama film "Bhaag Milkha Bhaag." She portrayed Ishri Kaur, the sister of the legendary athlete Milkha Singh. The film was a commercial success, and Dutta received several awards and nominations, including her second IIFA Award for Best Supporting Actress.
Dutta's filmography is diverse, with roles in over sixty feature films, including international productions. Her foray into short films with "Plus Minus" further showcased her versatility, winning her the Most Popular Short Film award at the 2019 Filmfare Awards.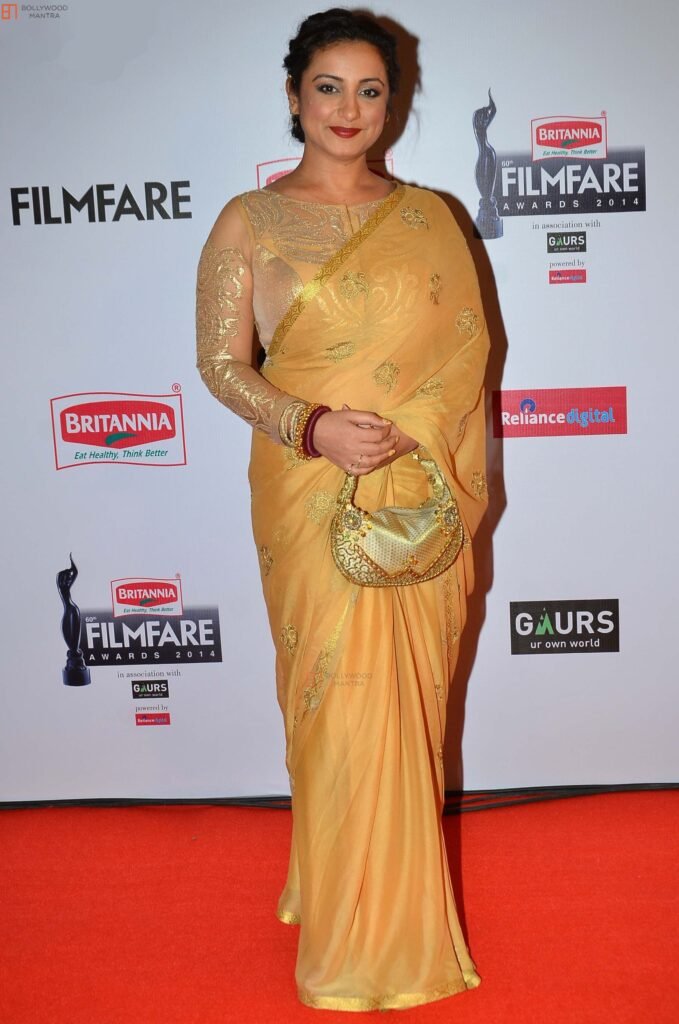 Personal Life and Memoir
Divya Dutta remains unmarried, dedicating her time and energy to her craft. She penned a memoir titled "Me and Ma," celebrating her mother's influence on her life. The book, published in 2017, sheds light on her close relationship with her mother and the valuable lessons she learned from her.
Awards and Nominations
Divya Dutta's talent has been recognized with numerous Awards and Nominations, including:
National Film Award for Best Supporting Actress for "Irada" (2017).
Filmfare OTT Award for Best Supporting Actress (Drama Series) for "Special OPS" (2020).
IIFA Awards for Best Supporting Actress for "Delhi-6" (2010) and "Bhaag Milkha Bhaag" (2014).
Zee Cine Awards for Best Actor in a Supporting Role (Female) for "Veer-Zaara" (2005) and "Bhaag Milkha Bhaag" (2014).
GIFA Award for Best Supporting Actress for "Veer-Zaara" (2005).
Apsara Award for Best Actress in a Supporting Role for "Bhaag Milkha Bhaag" (2014).
Screen Award for Best Supporting Actress nominations for "Veer-Zaara" (2005) and "Delhi-6" (2010).