Khait Parvat, also known as 'country of fairies' is situated in the Ghansali of Tehri Garhwal District, Uttarakhand. Khait Parvat is no less than a paradise, scenically and mystically. People believe that fairies protect the surrounding villages of Khait Parvat . Moving beyond the world of tales, It is a place where even today also people claims to see fairies and forest goddesses
There is also one belief that if 'Achhari' of the Khait Parvat liked person visiting this placed they will unconscious that person and take him/her with along themselves in their fairyland and they will not able to return again. It is also said that making sound and noises is prohibited in Khait Parvat otherwise "Achhari" will take away you and there is no way to return back.
A Land of Fairies and Forest Goddess: Khait Parvat
It is said that 9 fairies reside on this mountain. According to the beliefs of the resident of this region, there used to be a king whose name was "Asha Rawat", whose nine daughters became "Achhari" or " Yogini" which means fairies in Garhwal Region.
According to the information from the Massachusetts University of America's research, it was found that some amazingly strong powers attract the people trekking or traveling from there. It is believed that the fairies do not like vibrant colours, noise, and loud music.
Legends tell this story of a person named Jeetu who would play the flute while cow grazing, so one day the fairies got attracted to Jeetu's flute. They came in front of him and took him away to the fairyland.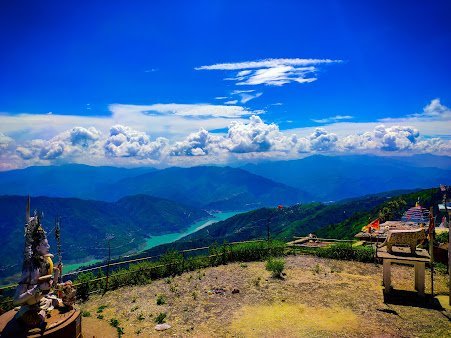 The center to these mysteries is a temple named Khatkhal where these fairies are worshiped and each year in June a fair is held to upraise and please them. This place is also associated with the killing of Demon Andhakasur by Lord Mahadev and Demon Shumbha and Nisumbha by Devi Parvati

There are innumerable wonders that will amaze you. The thing is, that in this wilderness, the cultivation of walnuts and garlic is also done automatically. There is also a mysterious cave on Khait Parvat, about which it is said that the end of the cave is not known. No one is able to still find the endpoint of this cave.

The peak is a beautiful plain covered with velvet grass. From here, as soon as you raise your site, there is a grand view of the snowflakes spread to one end on the horizon. Since there is no other mountain peak around far and wide, reaching this summit seems as if we have reached the roof of this planet.

Undoubtedly, Khait Parvat is a wonderful amalgamation of mystery and adventure. Fairies may or may not be found but your experience will be no less than a trip to a fairyland it is a beautiful experience you must once have in your life.
Location of Khait Parvat
Khait Parvat is situated at an elevation of 10500 ft above sea level. One can reach Khait Parvat by crossing Musankiri village after a 5 km of the trek. The village Musankiri is located around 25 km from Ghansali. The peak offers amazing views of the Mandar Valley and Himalayan ranges. Khait Parvat is not connected by any road.
Hikers Paradise: Khait Parvat
Khait Parvat is the highest peak in Tehri District . It is said that the hiking experience in Khait Parvat is so amazing that one needs to experience it once in their lifetime.
The peak offers beautiful scenic views of some ranges of Himalayas like- Kedarnath, Manda, Kirtistambh (tip of shivling), Meru Group, Bhriguptnath, Bhartekhunta, Kedardome, Jalony and Jogin.
Hikers can reach Khait Parvat by trekking 5 km from Musankiri. The trek takes around 3-5 hr from the last access road.
Best Time to Visit Khait Parvat
One can visit Khait Parvat throughout the year. The roads till Munsakiri remains accessible throughout the year. But still the best time to visit is between October to April. These months makes the experience of the peak truly mesmerizing.
In the winters there is a lot of snowfall around the region, which covers all the peaks surrounding Khait Parvat by snow. In rainy season it becomes difficult to reach the peak because of heavy landslides and heavy rainfall which directly affects the road transportation.
Staying in Khait Parvat
There are no accommodations available in Khait Parvat. One can stay his/her night in Musankiri or Gholdiyani. Both Mosankiri and Gholdiyani is packed with good hotels and home stays. One can experience the culture of Tehri District by staying at one of the home stays.
Food in Khait Parvat
You won't be able to find any food joint at the peak. Musankiri which is 5 km from Khait Parvat offers a wide range of food for both vegetarians and non vegetarians. You can experience the local cuisine of Garhwal and Tehri region by eating at a local food joint or restaurant.