BORN, BROUGHT UP AT, EDUCATION? BORN AND BROUGHT UP IN DELHI AND DID SCHOOLING FROM DELHI AND COLLEGE FROM DELHI UNIVERSITY.
DID YOU ALWAYS THOUGHT TO BE A PART OF THIS ENTERTAINMENT INDUSTRY? AND IF NOT THIS, WHAT WOULD HAVE BEEN YOUR OTHER
CAREER CHOICE?
I HAD A CAREER IN A BPO, IT SECTOR FOR 14 YEARS AND THEN DECIDED TO QUIT MY JOB AND BECOME A STAND UP COMEDIAN, WHEN WE ARE YOUNG WE ALL ARE ATTRACTED TO WHAT WE SEE ON THE SILVER SCREEN SO YES THE DESIRE TO DO SOMETHING WAS DIFFERENT FROM A LONG TIME BUT THEN ONLY STARTED TO FOLLOW MY PASSION ONCE I WAS SETTLED IN LIFE WITH REGARD TO CAREER.
YOU ARE A KNOWN
START?
I WAS ALWAYS THE FUN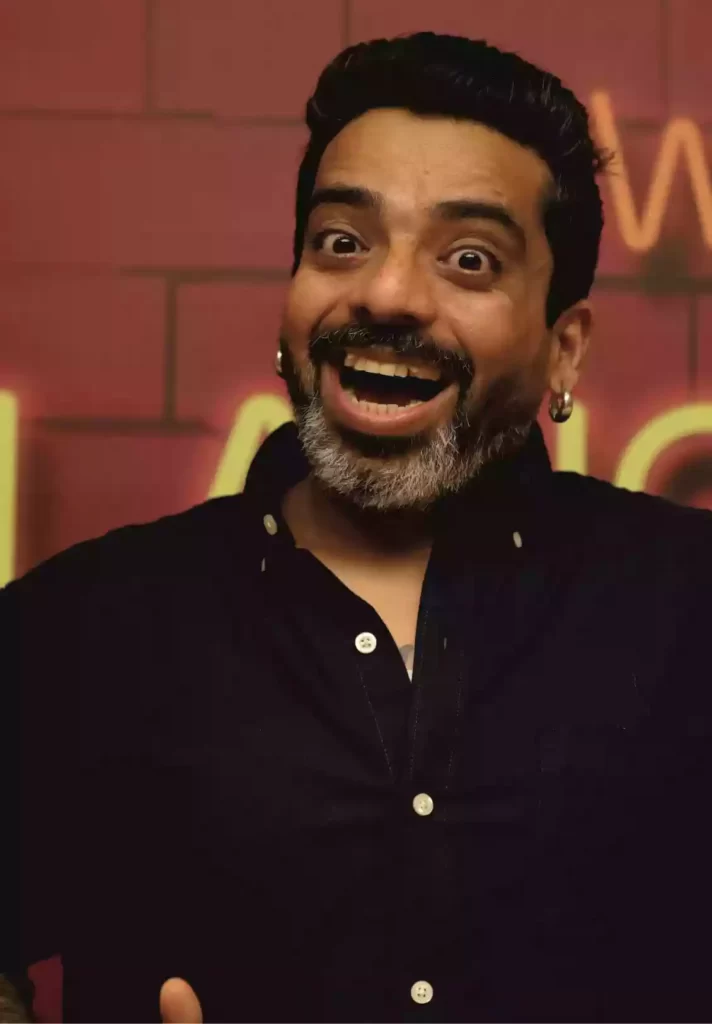 YOU ARE A KNOWN FACE NOW, PEOPLE ADMIRE YOU A LOT, SO HOW DID YOUR JOURNEY
START?
I WAS ALWAYS THE FUNNY GUY, IT WAS MY DEFENSE MECHANISM WHICH CAME INTO PLACE BECAUSE OF LACK OF BETTER OPPORTUNITIES OR A COMFORTABLE CHILDHOOD, THE FUNNY BONE IN
EXISTENCE WAS DISPLAYED IN THE OFFICE, WITH FRIENDS AND FAMILY AND SERIOUS TURN WHEN I TURNED 35 AND PURSUED IT FULL TIME.
IN THE BEGINNING, EVERYBODY HAVE SOME KIND OF STRUGGLE OR OBSTACLES. SO WHAT
KIND OF STRUGGLE YOU FACED, BEFORE STEPPING INTO THIS INDUSTRY? THE STRUGGLE IS QUITE NORMAL AND VERY SIMILAR TO ANY PROFESSION IN THE CREATIVE FIELD, LACK OF OPPORTUNITIES, UNAVAILABILITY OF MONEY, NOT KNOWING WHAT IS TO BE DONE AND HOW IS IT TO BE DONE, LACK OF PROPER AVENUES TO NOURISH YOUR SKILL AND TALENT.
A-LIFE CHANGING MOMENT
THE DAY I DECIDED TO BE A STAND-UP COMIC.
YOU ARE AN INSPIRATION FOR MANY, WHO IS YOUR INSPIRATION?
MY MOTHER IS ALL MY TIME INSPIRATION BECAUSE OF HER UNDYING SPIRIT, HARD WORK,
PERSEVERANCE AND DESPITE ALL HARDSHIPS TO KEEP A SMILE ON HER FACE WITH HUMOR TO MAKE THE LIFE JOURNEY EASY.
YOU ARE A COMEDIAN, ACTOR, TEDX SPEAKER AND WHAT NOT. SO WHAT KEEPS YOU MOTIVATED TO GIVE YOUR BEST IN EVERYTHING YOU PICK UP? OR THERE IS SOMETHING ELSE YOU WANT TO TRY?
IT IS QUITE SIMPLE, IF YOU LOVE SOMETHING AND YOU ARE WILLING TO PUT ANY AMOUNT OF EFFORT BECAUSE OF YOUR PASSION MORE OFTEN THAN NOT YOU WILL END UP GIVING OUT SOMETHING THAT CREATES MEMORABLE MOMENTS I HAVE JUST BEGUN AND WOULD LOVE TO GET A CHANCE IN THE ACTING ARENA, WHICH PUSHES ME TO LEARN AND EXECUTE THINGS THAT I HAVE
NOT DONE BEFORE.
THEN MAKING YOUR DEVUT IN MOVIES, SHARE YOUR EXPERIENCE OR SOME MEMORABLE
INCIDENCE DURING THAT? BEING A PART OF TWO MOVIES TILL DATE, IT HAS MADE ME REALIZE THAT IT IS VERY EASY TO SIT IN A THEATRE AND CRITICIZE ANY MOVIE, BUT THE HARD WORK THAT GOES BEHIND IN MAKING EVEN A
SO CALLED BAD MOVIE IS IMMENSE AND THAT IT IS A TEAM EFFORT THAT MAKES ANY MOVIE A
SUCCESS OR A FAILURE.
YOUR MOST FAVOURITE ACT OR A ROLE TILL DATE? YET TO COME.
HOW DO YOU LIKE TO SPEND YOUR DAY? YOUR HOBBIES? I AM A HOMEBOY, I LOVE TO WATCH TV SERIES, MOVIES AND READ BOOKS, I LOVE TO TRAVEL A LOT AND BACK HOME I AM ALWAYS AT EASE WITH MY FAMILY AND MY DOGS.
EVENTUALLY IT TOOK A