The Indian cinema has given us some of the iconic masterpieces that still remains etched in the hearts of the audience. Thanks to the relatable storylines, perfect leads, well-composed songs and everything that once get to visualize on screen. Well, the list of such movies seems a bit long but if you are someone from the 80's, one movie that still takes a special place is "Maine Pyar Kiya". The movie redefined friendship and gave us the golden rule ("Dosti ka ek usool hai madam – no sorry, no thank you"). Numerous reasons made this movie an iconic one and still charming as it was back then. When we are talking about this iconic movie, the names "Prem & Suman" would definitely pop into one's mind. While people get to see the regular glimpse of real "Prem" many a time on screen, where is the real "Suman" who took everybody's heart with a very first presence on the silver screen? Actress Bhagyashree Patwardhan found her way into everybody's heart unwittingly in the year 1989 with her naive depiction of Suman in this iconic movie, which was the highest-grossing movie of the 80s. With the release of her maiden film, Maine Pyar Kiya, Bhagyashree had become an instant sensation. Every film reviewer and moviegoer adored her purity and on-screen performance. At the mere age of 20 years, she was at her heights of stardom. However, after achieving a dream breakthrough, she forsook this glitzy world and took a break from the industry, which is unusual after receiving critical praise. So, it would be interesting to know more about everybody's favourite, the evergreen diva- Bhagyashree Patwardhan.
EARLY LIFE
While her elegance exudes regal opulence, you'll be relieved to learn that she is a genuine princess. Bhagyashree is a member of the Sangli Marathi royal line. She is the daughter of Vijay Singh Rao Patwardhan, the titular Maharaja of Sangli. Bhagyashree's life is a beautiful tapestry. She was born and raised in Mumbai. Jamnabai Narsee School was where she completed her education. She was a scholar at school and had a strong desire to continue her higher studies abroad. She was the eldest of her siblings and was responsible, studious, and had no intention of entering the film industry at first.
ENTERING THE INDUSTRY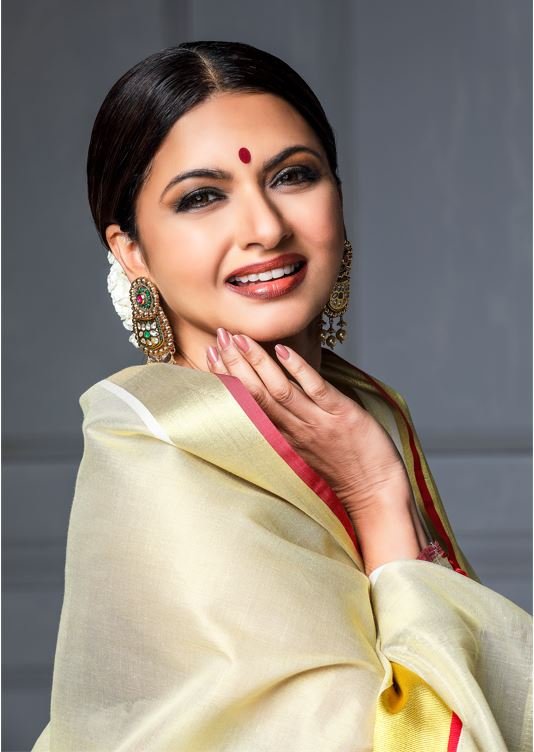 It truly happened during her tenth-grade holiday. Amol Palekar, a well-known actor-director and his neighbour persuaded her to play in the serial "Kachi dhoop." He gave her the role of the elder sister since the previous actress had unexpectedly dropped out of the movie, causing him a significant loss. Her younger sister, on the other hand, was already a character in the show. Bhagyashree has no formal training or prior experience because she had no intention of appearing in front of the camera for projects. She was, nonetheless, willing to assist her uncle. As a result, she arrived on set the next morning. This was her very first television debut. The serial's filming was completed during the holiday. She then resumed her normal schedule. But fate has its own plans. Mr Sooraj R. Barjatya's (famous director) father watched her serial and convinced Mr Sooraj to contact Bhagyashree for his debut film "Maine Pyar Kiya." Fortunately, both parents were previously acquainted. Bhagyashree, on the other hand, had no intention of joining the industry. However, when Mr Sooraj Barjatya arrived at her house and told her the narrative, she couldn't say no to such a beautiful plot. When asked about her wonderful memories from this iconic movie set, she says," For me it was all about taking on a journey, learning a new profession. I enjoyed doing Maine Pyar Kiya. I loved the process of it, loved being on the set — I remember each and every day vividly. There are so many memories with Salman, the newly married Sooraj Ji and his wife. How can I forget about the Handsome, white pigeon that played Cupid and carried messages between the young lovers, he was reluctant to go to Salman. The entire journey was a memorable one. And since that was my first movie, Salman will always hold a special place".
BEST FEMALE DEBUT AWARD
Receiving praise and admiration for your work is a rare occurrence. It's much more amazing to receive all of this when you've only recently begun. Bhagyashree became the most popular actress after her first debut on the big screen. Her innocence, simplicity, and flawless portrayal of the character set her apart from the competition, earning her the title of "Best Female Debut." Let's see what she was thinking at the time. "It was a surreal experience. I couldn't believe it when I found out I'd won an award. This film was causing quite a stir. I had also married at that time and had my little bundle of joy, Abhimanyu. So he was the centre of my universe at the moment, I couldn't think about anything else. "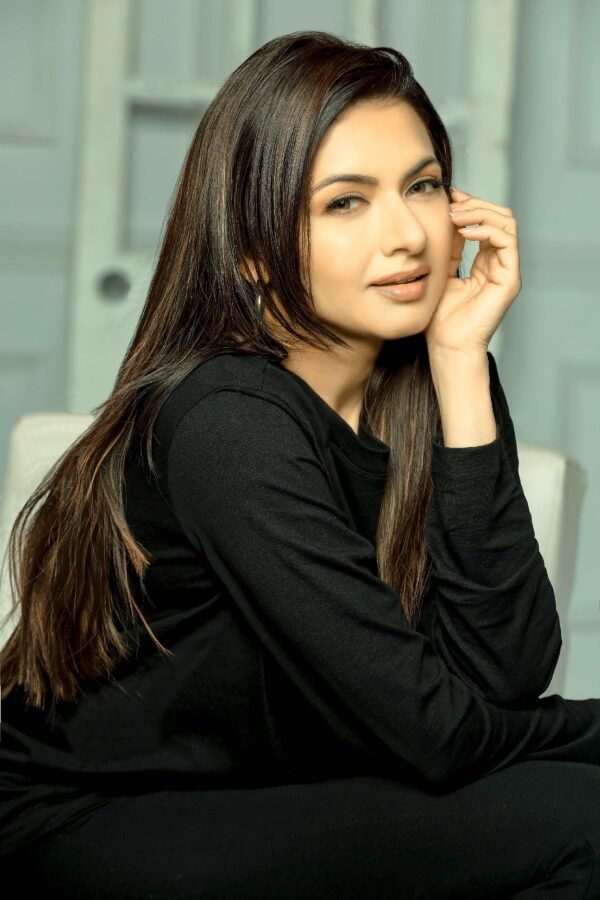 THE BREAK FROM THE INDUSTRY
People aspire to achieve the level of fame that Bhagyashree achieved in her very first film. Despite her huge success, she took a break for a while. In the 2000s, she made a comeback with regional films and also made cameo appearances in Hindi films but she kept out of the spotlight for the most part. Let's learn more about the hiatus. "I couldn't move my right hand during the filming of my television serial and it took a year for me to recover. The physicians recommended surgery, but I was terrified of it. Throughout the process, I became more interested in diet and exercise. So I took virtual classes from Stanford University, American Fitness and Professional Associates, and the University of Pennsylvania to learn about it (UPENN). The physicians were taken aback and surprised when I self-healed. "I realized that a simple way of life might help one heal at home." Her dietary knowledge is self-evident. Just take a look at her social media accounts, where she gives helpful nutritional information and Bhagyashree herself is a timeless beauty. And you'll be relieved to learn that the epidemic prompted her to put her house under "very nutritional lockdown." Her spouse, who was busy cultivating organic veggies in the property, deserves credit. As a result, Bhagyashree relished the nourishing organic veggies that came directly from her farm.
TAKING HER LEGACY FORWARD
Bhagyashree has wonderfully stepped into the shoes of a supermom as the mother of two lovely grown children. Her life revolves around her children, and she strives to be a calming presence in their midst. She achieved fame with her flawless onscreen appearance, but she is more pleased with the achievement of her children. It is Abhimanyu and Avantika's successes that make her feel on top of the world. While she is a guiding light for them, her children have gone above and above in carrying on her heritage. Abhimanyu made his acting debut in the 2019 film 'Mard Ko Dard Nahi Hota,' for which he also received a best male debut award. Let's examine what Bhagyashree felt at that moment: "However, I haven't urged any of my children to follow in my footsteps. And speaking about Abhimanyu, he is academically brilliant. So, I was actually diverting him towards studies. But they're both drawn towards the industry, and as a mother, I'll always be there to support and guide them. The industry's present situation has fundamentally changed. There is a lot of competition, and the actors arrive well-prepared. And I'm very proud of both of them for putting in so much effort. Abhimanyu has already started his journey. And getting an award for his debut film is a way more special moment for me. I told him to enjoy this moment as I couldn't when I got my award. I am actually enjoying him getting an award. I told him to take on people's compliments, appreciation and just live the moment."
HER INSPIRATION
There is always someone in everybody's life, whom one looks up to and gets inspired. Let's hear from the diva about her inspiration: "I feel people all around you inspire you in some or the other way. Whosoever enters our life, has a purpose. We get to learn and teach each other something for sure. But when we talk about work, I get inspired by the young generation, who work so hard, tirelessly to fulfil their dream. They are so focused, well prepared and know exactly what they are doing. So, seeing them putting in their everything, inspires me. I get inspired by my kids."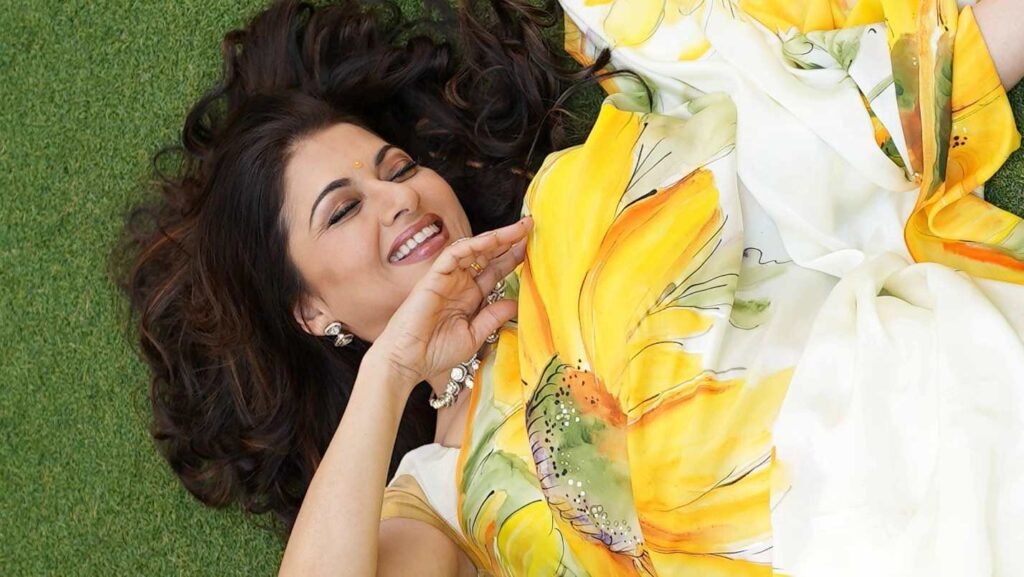 HOW DIFFERENT BHAGYASHREE IS FROM "SUMAN"
Suman became synonymous with Bhagyashree. When one thinks about Bhagyashree, one thinks of an innocent, introverted, and socially awkward young girl. However, how does Bhagyashree appear in real life? "During my childhood, I was more like Suman. However, since my marriage, my husband has brought about a small change in that Suman. He is a very outgoing guy who enjoys engaging with others and is the life of the party. I had to get along with him as a life partner as well. So, I'm more like Cinderella, who likes to party and go out but has to return home at the end of the day. My happiest place is my house."
THE QUEEN IS BACK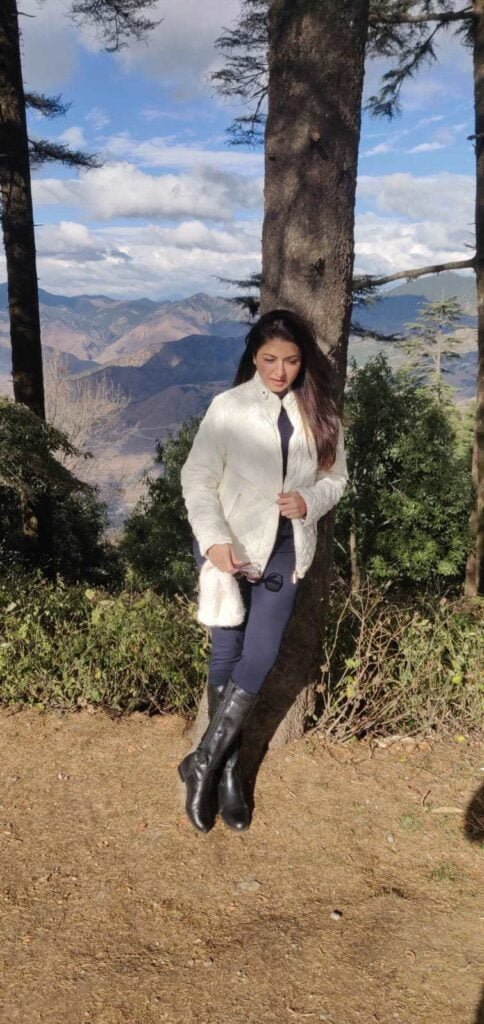 Bhagyashree got into the new endeavour of creating a production firm with her husband Himalaya Dasani after providing powerful performances in Indian cinema and television. She just made a reappearance on the big screen with the film "Thalaivi." Let's take a look at this comeback. " Prior to the release, I was both excited and anxious. My children, though, were more nervous than I was. My kids were more anxious than I was since I had been away from the cinema for a long time. Because, in comparison to them, viewers' tastes have altered dramatically. As a result, they were concerned that Momma had forgotten how to act and would be unable to behave in accordance with the current tastes of the audience. My kids gave me a pat on the back when the movie was out. I was so relieved at the time." More new projects are in the works for the sparkling diva. You may have seen her on Star Plus's newest reality show, 'Smart Jodi,' with her life partner, Mr Himalaya Dasani. You'll get a glimpse of their invisible chemistry as well as some of their most memorable moments. Aside from that, you'll see her acing the silver screen soon. With the film 'Radhe Shyam,' which is set to release on March 11th, she is ready to win everyone's heart once more.
A MESSAGE FOR ALL WOMEN OUT THERE
Bhagyashree is an inspiration to many women since she is the embodiment of versatility and excellence. She has sent an essential message for all ladies on this unique occasion of Women's Day. "You do not require the approval of others to validate yourself or your actions. you can achieve it if you believe in who you are and what you want from life."