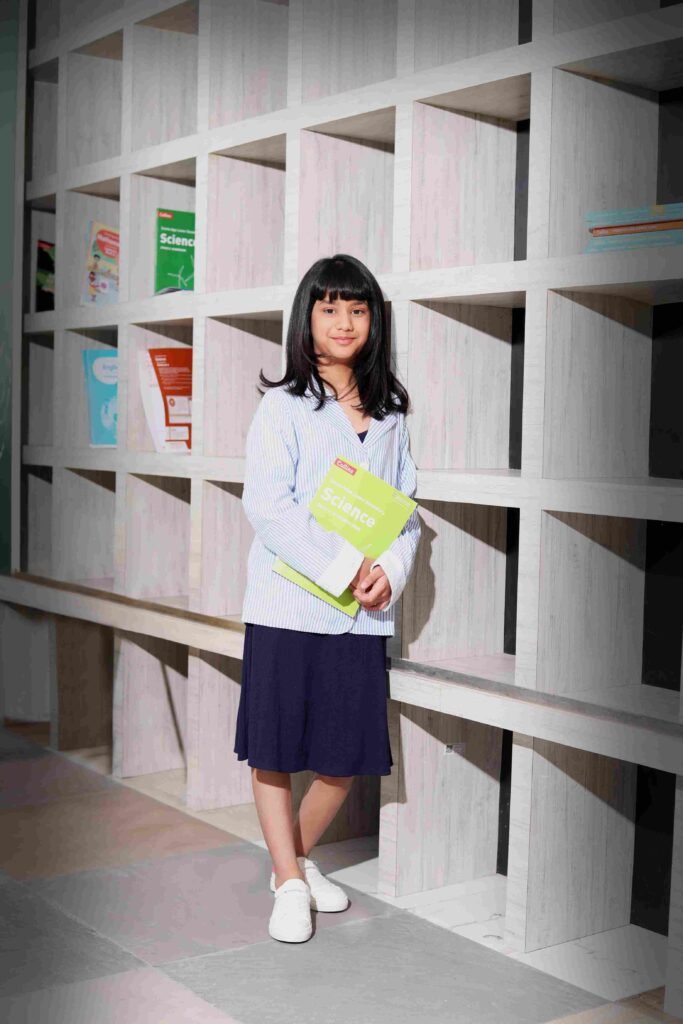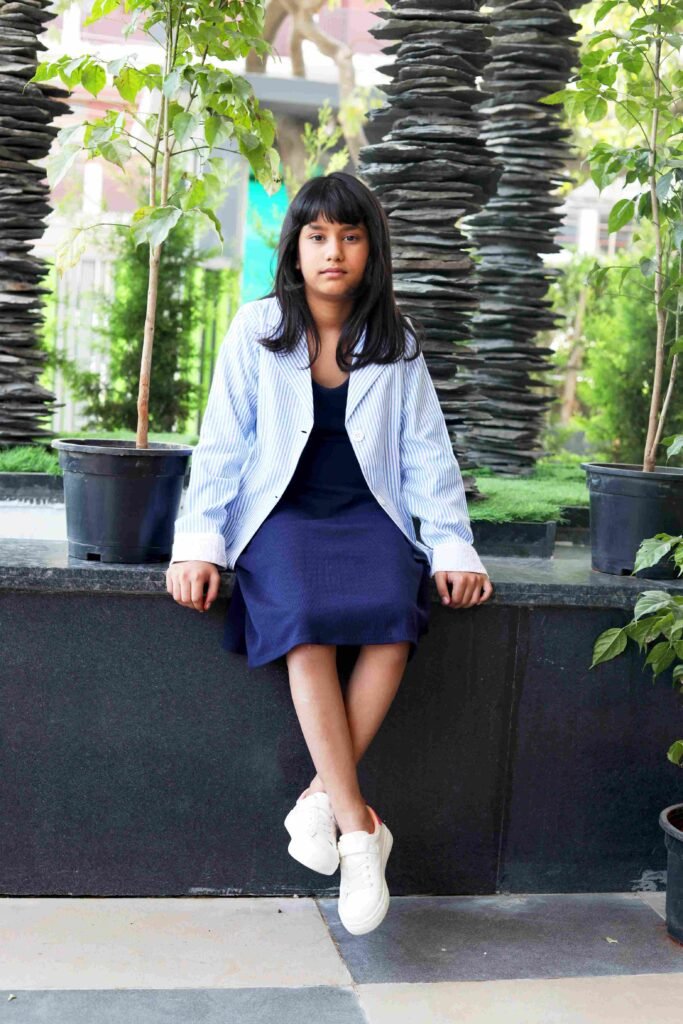 Once in our lifetime, we all tend to have a dream of doing something exemplary. But, very few of us dare to follow our passion and turn that dream into reality. A lot of people today begin to feel they are already too young or too old to start something and achieve. However, age is just an issue of mind over matter. If you are willing to take that extra mile, you can surely accomplish your goal, no matter how young or old are you.
Well, this all seems to be just an intellectual thought, but we have a little bundle of talent with us who has rightly proven that if your dreams are big and you put your heart to achieve them, nothing else matters.
Manishka Dubey, is a roboticist, coder, abacus solver, Guinness world recorder, and tech enthusiast. Well, the list of her achievements and passions seems to be a bit long for a kid, who is just 8 years old. A vibrant, innovative, and versatile Manishka, hails from the beautiful city of Dehradun and is currently pursuing her academics at Mondrian House School.
Being raised by a single parent, her mother, Shefali Adhikari and the maternal family, this little bundle of abundance talent has left no stone unturned in making everybody proud with her innumerable achievements till now. Although being just 8 years old, Manishka has bought so many laurels, she still feels there is a long way to go and many more goals need to be accomplished. As her ambition is to become the youngest astronaut scientist and youngest girl drone pilot from India.
It's quite evident that she is a creative learner who likes to think out of the box. But this is just like a drop of an ocean. Let us get to know more about this tech lover and intellectual kid.
THE BEGINNING OF HER TECH JOURNEY
As it is said "Coming events cast their shadows much before". From her very initial days of growing up, her intellectual persona of hers was quite evident to her mother. Sharing about her childhood days, her mother says "From her childhood, she was a very quick learner, she started everything soon school, robotic, coding abacus and lot more. She is just 8 years and in class 5th. So, there are a lot of memories but the very interesting was her talks about space, astronauts, robots which were so fascinating to me while she used to explain me. She uses to count everything at home curtains, tables, windows, etc. one thing to add, she was just 18 months when she joined the school.
still remember that day when I went to pick her up from school, she was in class 1 she came out hugged me and said Mumma I want to learn coding and robotics as I want to be an astronaut, I was like what!? I asked her how do you know all this she said I learned about astronauts, space, sun, moon, earth, planets and how they work what they do by watching a short documentary in the tv room, and from that moment she said MUMMA I WANT TO BE an Astronaut and its final. Till the time we reached home, she was telling me about robots and everything. I was so surprised to see her interest and the knowledge she was sharing. I came home and started searching for robotics and coding classes for her but everyone said that she is too small for it and she will not understand, so we can't take her. After a few days I got to know about SP robotics, Dehradun where I met Miss Shivakshi who agreed to take her trial first and then after 2 days, she said she is already a part of this institution and at that moment we were so happy and she still loves being there and explores a lot. SP robotics team and her Mentor Shivakshi in Dehradun are the ones who accepted her and had full belief in her. So, from Age-5.5 years till now, it is the best place for her on the earth. In fact, from school, we directly go to SP ROBOTICS MAKERS LAB DEHRADUN as it's far from home and we both used to have our lunch in the car itself as we couldn't go home because of the distance".
"And today, as a proud mother I want her to be a good human, then first achieve her goals, become a better version of herself as well as inspire other children of her generation to focus on their goals and achieve them."
HER INSPIRATION
We all tend to get inspired by someone or something at some point in time and that inspiration keeps us fueled to follow our passion. Let's hear from Manishka about her inspiration.
"My inspiration is Late Astronaut Kalpana Chawla. I am following my passion with the thought of Late President DR APJ Abdul Kalam who said "You have to dream before the dream comes true". So, I wish to turn my dreams into reality."
ABOUT HER LOVE FOR TECHNOLOGY
Well, she is full of love for her mother, her family, and a younger brother. Yes, Manishka is an elder sister to her baby brother. Who, she not only loves but also ensures to teach new things?
But let us hear from her mother about her love for technology. She says, "She is keen to learn new things- coding and robotics is what she is really into. She loves to innovate and solve all real-life issues. She is a fan of Iron man and has a dream to make her own J.A.R.V.I.S. She's the one who brings the Ideas, I help her with her needs and requirements so that she can comfortably work on them, as I am totally from the opposite field (Professional Artist) and what she is doing is very different."
CREATIONS FOR SAFETY AND BETTERMENT OF SOCIETY
In the hustle-bustle of our hectic schedule, we have all come a long way where we hardly have time to think about others. But this little kid has lightened the ray of hope and showcased that kids are the true image of that divine power. Till now, Manishka has amazed everyone by creating new tech devices every other day. Out of these numerous creations, some are those which can really cater to the current needs of society and can be a life saviour too. Be it her covid jewellery or her idea to get GPS for the ambulance, all these creations had only one motive- Saving a life. Her mother says, "I think she came up with the idea of a safety band for kids while learning robotics and coding. Making safety band was always in her mind and lockdown made her think to make her prototype hearing all the news and rules of covid she made this and added the locket too." About theGps for an ambulance, Manishka says ". I saw this issue around me and thought about solving it. I asked my Mentor if we could do something to solve this and with the discussion, I came up with this idea. I am not aware if it is being used in ambulances but it should be used to save lives."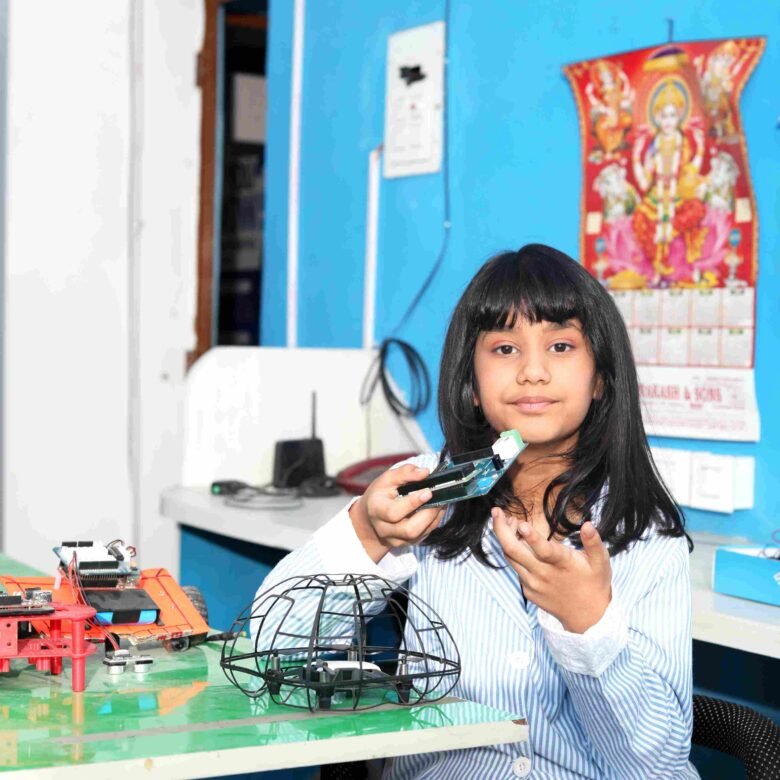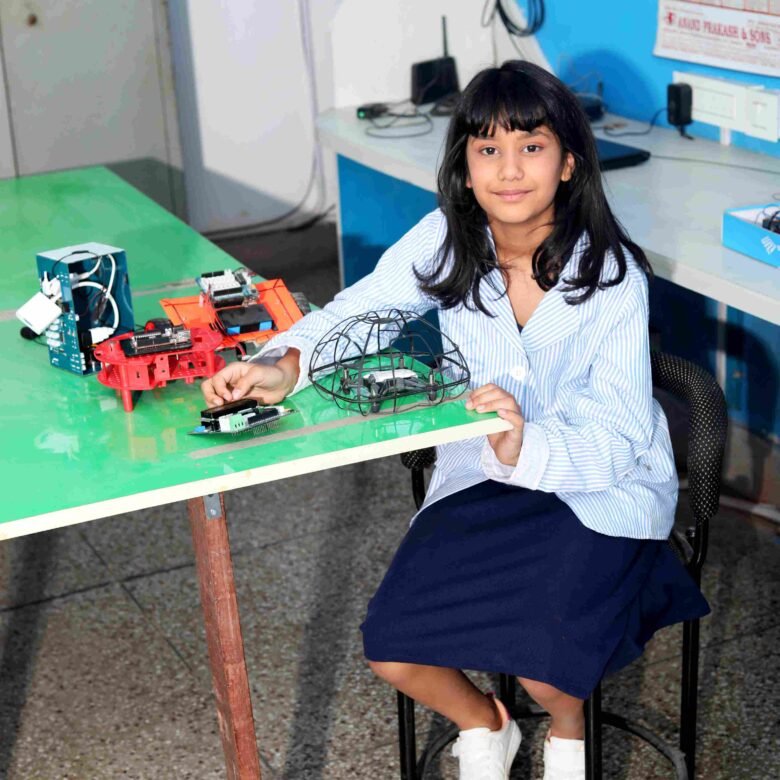 HER ACHIEVEMENTS
At the mere age of 8 years, her list of achievements seems a bit long. Naming a few of them:
Consolation Trophy in Visual Competition Abacus by UCMAS 2018
Guinness World Records certificate of Participation in the Largest Human Image of an Abacus by UCMAS 2018
Merit Trophy in Visual Competition Abacus by UCMAS 2019
PARTICIPATED IN PINKATHON MARATHON IN 3KM RUN AND FINISHED THE MARATHON WITH THE MEDAL.
The youngest innovator in Technoxian World Robotic Championship,2019 Delhi.
Youngest Participant in Drone Competition, Team @udbhav Vasud, held in IIT BOMBAY Techfest 2020.
Awarded 2nd PRIZE WINNER and Awarded as COOL PRESENTER AWARD in NATIONAL ROBOTICS AND CODING CHALLENGE 2020 by SP ROBOTICS.
2nd Rank in Open National competition by MAATS MENTAL ARITHMETIC & ABACUS ALL INDIA TALENT SEARCH PVT.LTD 2021-22
1st Rank in Open National competition by MAATS MENTAL ARITHMETIC & ABACUS ALL INDIA TALENT SEARCH PVT.LTD 2021-22
part of the Young Tech CEO Program conducted by Kidspreneur for 2020 in NATIONAL ROBOTICS AND CODING CHALLENGE 2020
Winner of NCRC2 National coding and robotics championship 2022 by SP Robotics Works
Champion Trophy in 3rd open International Abacus contest 2022 by MAATS MENTAL ARITHMETIC & ABACUS ALL INDIA TALENT SEARCH PVT.LTD

COMPETITION FOR HER
We are all in a competitive space right now. But for some competition helps in becoming a better version while for some competition seems to be a hurdle. Let's hear from the mother of this tech kid about Manishka's approach towards any competition.
"One day before the competition she is the one who's the most excited member of our family. She does her daily chores, included pray to God and with a positive approach as well as with a calm mind prepare for the competition. Even, she is planning to participate in more robotics and coding championships at national and international level."