If you happen to be in Rishikesh, how can you miss out on that adrenaline-rushing white water rafting? And if you get ready to experience this thrill, you'll surely have to pass by the famed town of Shivpuri. River rafting is popular here, and the area is packed with people eager to attempt this adventurous activity. Whether you wish to embark on a small hike, a long trek, river rafting on the Ganga river, Zipline over the Ganges, and camping in the lap of nature, Shivpuri has all the necessary equipment and accommodations.
It is also the place to go if you're looking for tranquillity and rejuvenation, among other things. The gorgeous backdrop of steep mountains, river rafting in the holy river Ganga, and several fantastic campsites have propelled this little but charming community to popularity.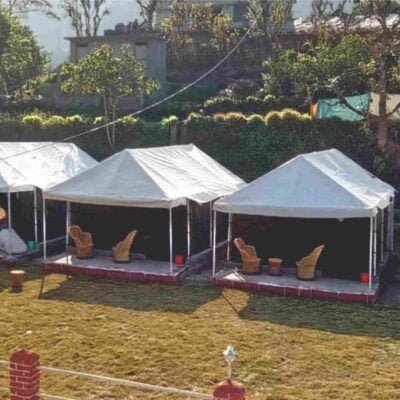 How to reach
BY TRAIN
Rishikesh Railway station is the nearest railway station to the Shivpuri. It is about 16 km from the Rishikesh Railway Station to Shivpuri and it will take around 30 minutes to reach there. You can travel through a rented two-wheeler vehicle or can find a cab or taxi easily.
BY AIR
Jollygrant Airport, Dehradun is the nearest airport. The distance between Jolly grant airport and Shivpuri is about 33km and it will take approx 1 hr to reach Shivpuri
BY BUS
Rishikesh bus stand is the nearest bus stand located at the centre of the city. The distance between the bus stand and Shivpuri is 10 km.
This place is a haven for thrill-seekers. Shivpuri, the "Abode of Lord Shiva," is a destination for river rafting in India because it is so beautiful, tranquil, and full of adventure. The calm hamlet of Shivpuri, located 20 kilometres from Rishikesh on the banks of the Ganga, brims with life, laughter, adventure, and nature's abundant pleasures. With the white rapids below, lush deep forest on each side, and a view of the stunning mountains in the distance, river rafting is not only exhilarating but also highly scenic, making Shivpuri one of the most popular tourist destinations in Rishikesh. This location has a smaller audience and is completely peaceful. In Rishikesh, Non-Veg food is banned near Ganga River Side so you will find a vegetarian menu to eat.
You may see iconic river rapids like Return to Sender, Roller Coaster, Tea Off, Golf Course, Clubhouse, Cash Flow, Initiation, Double Trouble, and Hilton while river rafting down the Ganges straight up to Ramjhula Rishikesh for roughly 16 km of toss and turn and missed heartbeats.