Magneficent Lakes Of Nainital
If you are an ardent traveler, who loves to explore various places, especially the ones that let you feel close to mother nature and give you a glimpse of serenity all around, then Nainital is a must-visit place for you.
After all, who doesn't know about this popular tourist destination that draws thousands of tourists around the year? This beautiful city which derived its name from the 'eye-shaped lake', is set against the magnificent snow-clad Himalayas. It's not just the lakes that make this place a popular one, but also the serenity that echoes from the rippling sound of water.
Well, in our previous edition, we got to know much about the very intricate jewel of Kumaon, it's time to explore the beautiful lakes of this hill station.
Sattal
If you are looking for solitude amidst pristine nature, do visit this exemplary masterpiece of nature. Nestled amidst the dense forest of oaks, Sattal offers you a surreal experience of the natural beauty of Nainital.
It's most well-known as a location for birding because it's far from the bustle of the major metropolis. Crimson sunbirds, Khalij pheasants, Ashy throated warblers, White Browed Scimitar babblers, Tits, Brown Wood owl, little forktail, Brown dipper, Russet sparrows, Blue-throated barbets, jungle owlets, and common Green Magpies are just a few of the numerous species on this lengthy list that are challenging for novice birders to keep up with. Sattal is remarkable for its extensive avian life and the diversity of bird species is breathtaking because of the appropriate altitude and habitat combination.
Additionally, you can choose to camp or go boating in this lake with vivid blue-green water. The outdoors is what make Sattal unique, and setting up camp by a lake provides you a wonderful taste of wildlife and adventure. And make sure to have a lovely nature walk after your visit to this tranquil lake. There are many untrodden paths that will give you an experience of a lifetime.
All you need is a pair of binoculars and some comfortable walking shoes to truly enjoy exploring Sattal and viewing your favourite birds, and you'll be well on your way to having the perfect vacation.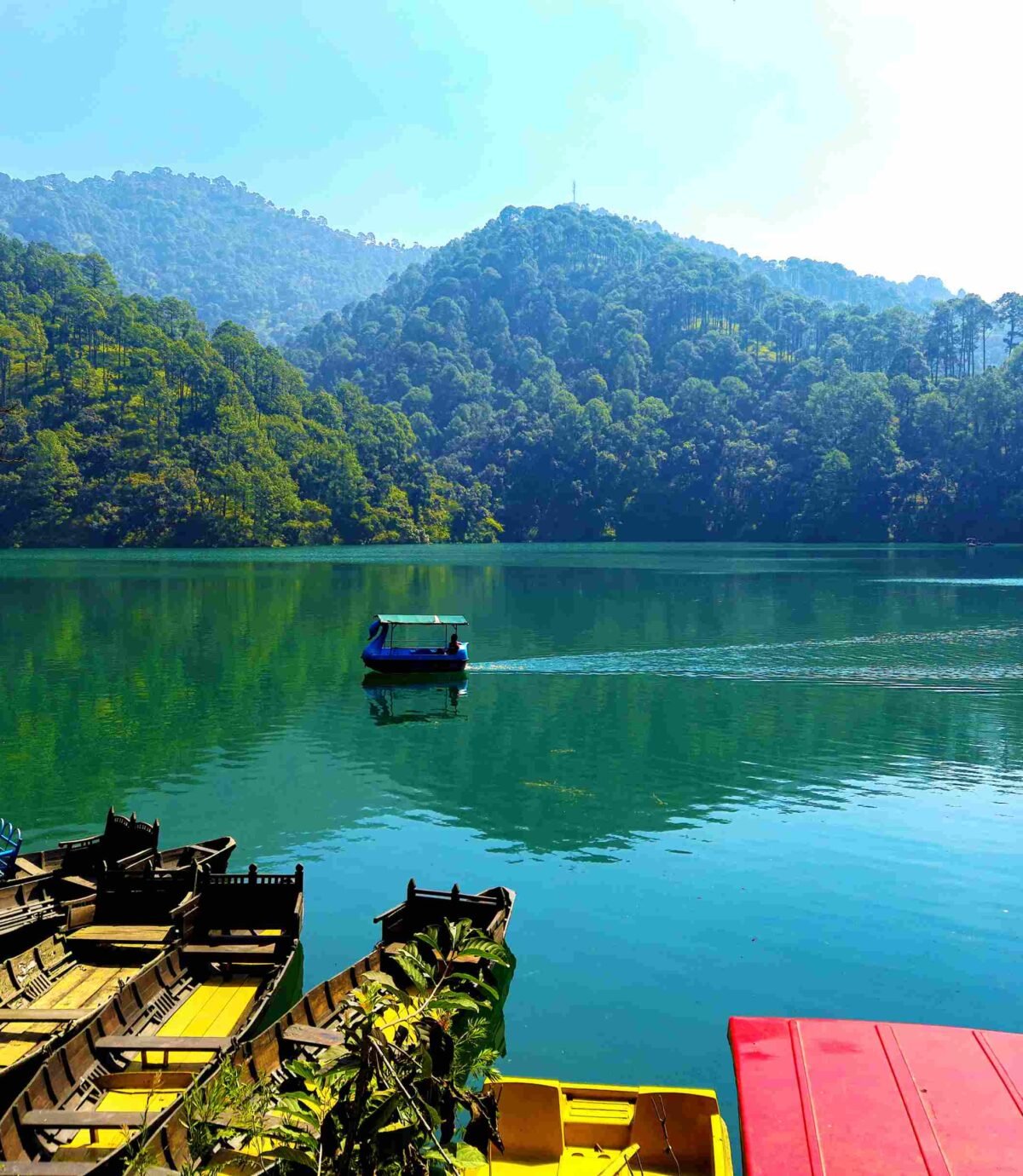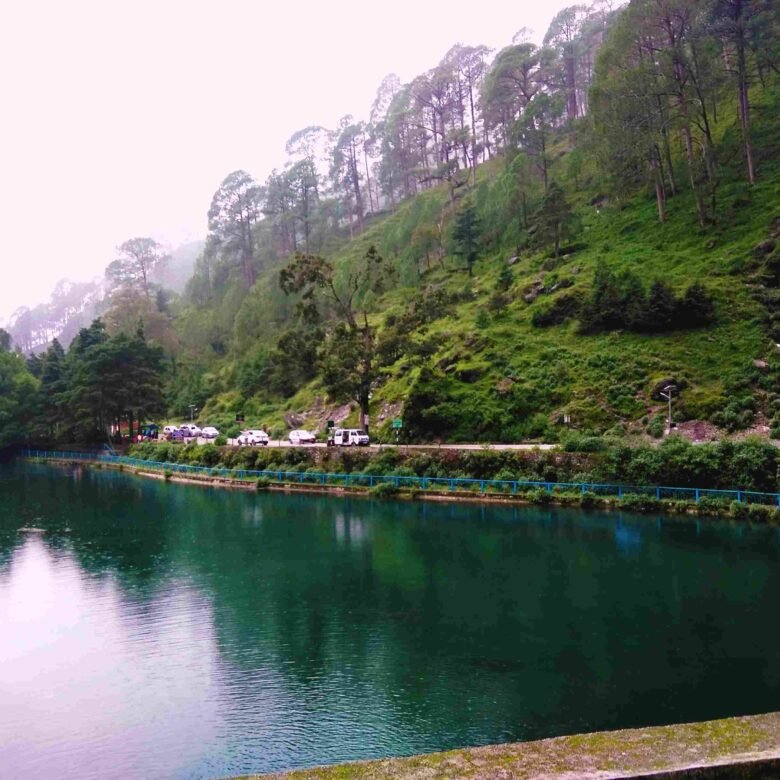 Sariyatal
Nainital is filled with abundant natural beauty. But it also has one of the beautiful artificial lakes which has developed into a popular tourist spot. This deep emerald lake is also referred to as Sarita Tal. This almost perfect heart-shaped lake comes to life when the very first sun ray falls on it and offers you a varied range of water sports activities.
Along with boating and experiencing the natural beauty of this lake, you can also visit the famous Himalayan Botanical Garden. This is also the research center other than the herbarium and the butterfly park. Spanning across an area of 30 hectares, this garden is home to some rare and native species. By paying a minimal entry fee, you can get to witness the orchidarium, Geodesic dome, Thunia Alba Orchid, Waterfalls, and even many more rare species. So, if you are someone, who loves to witness rare species, this garden is a must-visit.
It's plush surrounding with a strikingly magnificent backdrop is what you need for a serene escape.
Khurpatal
This ravishing beauty is actually one of the unexplored lakes of Nainital. And, that's the real beauty of Khurpatal!!
Situated amidst the dense Deodar, Pine, and Cedar forests, this lake also offers you various sports activities. Being away from the main city, it is a perfect place for solitude seekers. Apart from this lake, you can surely go around and explore the unbeaten trails, experience proximity to nature and rejuvenate your mind. Sky kissing Kumaoni mountains, the emerald-colored water of this beautiful tiny lake, and lush greenery make Khurpatal a photographer's paradise.
You'll be surprised to learn that Khurpatal, which is currently more well-known for its vegetable farms, was once renowned for producing iron implements up until the 19th century AD. Vegetable growing is being done by a few kind and straightforward village residents. A nice change that one can long for is Khurpatal's revitalising atmosphere, which is quieter and greener than usual after the rains.
Khurpatal appears to be a hidden sanctuary; as a result, it is still filled with the sounds of nature rather than of machinery. Khurpatal is the ideal location for you if you enjoy tranquilly.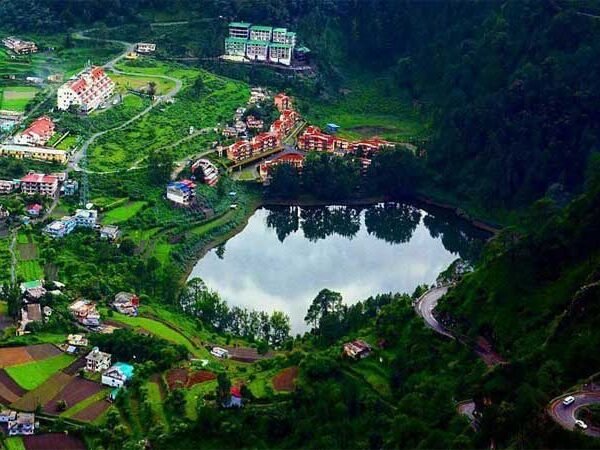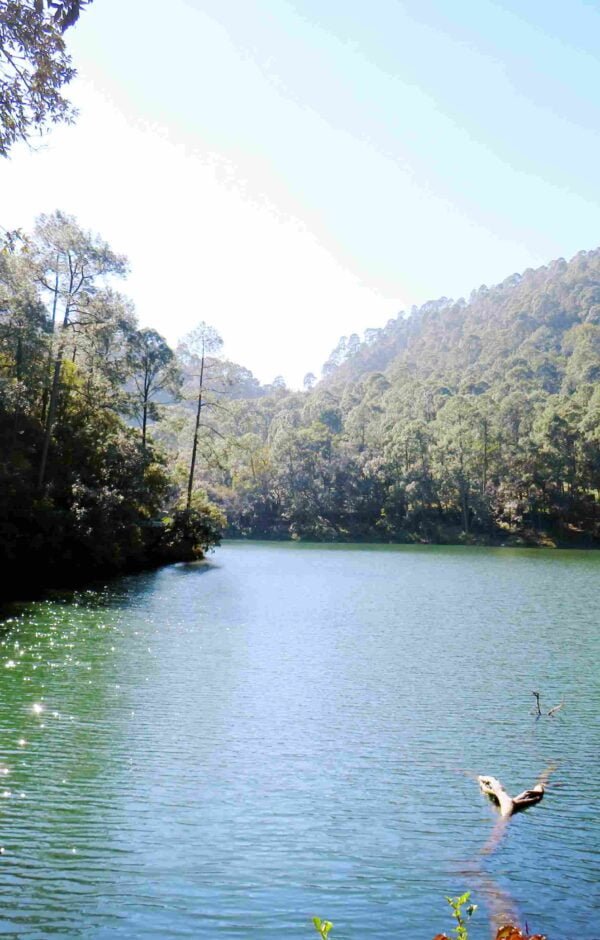 Naukuchital
Naukuchiatal, nine cornered lakes, is a destination for those who seek quietude and tranquility beneath the shade of pure nature. Lying at some distance from the bustling hill station of Nainital, this place is also attached to a legend. It is said that one glimpse of all nine corners of the lake with both feet on the earth can make the viewer disappear into the smoke to achieve nirvana. Also, it is believed that this lake was created after hard worship of Brahmaji and a small temple dedicated to Brahmaji exists near the KMVN guesthouse. According to locals anyone performing a parikrama of the lake will be blessed by Brahmaji.
Naukuchiatal is blessed with panoramically beautiful surroundings and an alluring lake, providing several opportunities for body and spirit renewal.
Anglers and bird watchers can enjoy the valley's fishing and wildlife. Fishing, rowing, paddling, paragliding, and yachting are some additional activities. A recurring subsurface spring supplies the lake. The "escape festival," which takes place once a year in Naukuchiatal, is another popular attraction.
Actually, Naukuchiatal is heaven on earth with its plethora of colors of green, lakes, temples, cozily appointed resorts, mountain food, fresh air, and helpful inhabitants, making it the perfect stress reliever. A regional favorite is bhuransh, a squash produced from rhododendrons. This nine-cornered lake has a wealth of tourist attractions that will keep giving you memorable experiences as you tour this tiny Kumaon hill station.
Bhimtal
Surely, the very first thing that comes to your mind when you hear the word 'Bhim', would be the strongest hero of the epic Mahabharata. Well, this lake has derived its name from the very same hero. Legends say that Bhima, one of the Pandava princes from Mahabharata, created the picturesque lake and hence, its name. Its unique, peaceful atmosphere is what gives this picturesque hill station its attractiveness. For paddle boating, birding, and nature walks, the gorgeous Bhimtal Lake is a well-liked destination. You might notice the island in the middle of the lake where another Bhimtal attraction, an aquarium, is located as you are sitting in your boat. The town also offers a variety of activities to satisfy both your daring and lazy sides, including trekking, kayaking, paragliding, camping, and, of course, paragliding because the best view comes after the most difficult climb. You can also see how this lovely town is peppered with adorable houses along the slopes.
Bounded by a dense forest of oaks, pine, and shrubs, it is also known for a few ancient temples. The most popular one is the Bhimeshwar temple.
Historians believe that Bhimtal was used as a stoppage en route to Nepal and Tibet from India and may have been a part of the ancient silk route. The town is also home to several educational institutions.
The best thing about it is that it makes for a dreamy getaway all year long. The lake overflows during the monsoon and creates a stunning scene when paired with the verdant hills. The advent of migratory birds in the winter transforms Bhimtal into a birdwatcher's paradise. Additionally, Bhimtal is still a sparsely inhabited, pollution-free town where you may enjoy peace and tourism attractions at their finest, in contrast to the congested land of Nainital.
So, what are you waiting for? Switch your travel mode on and visit this place filled with solitude and memorable experiences.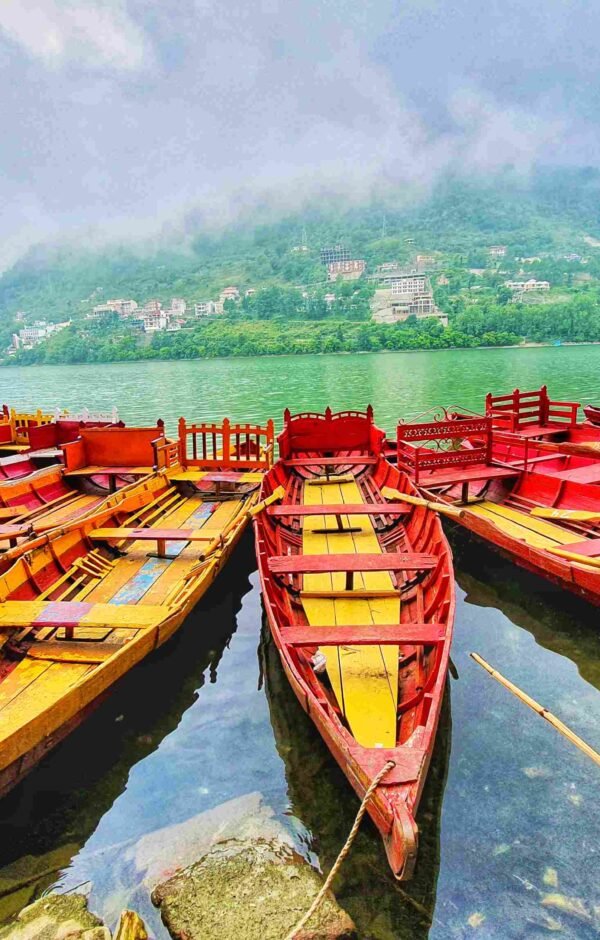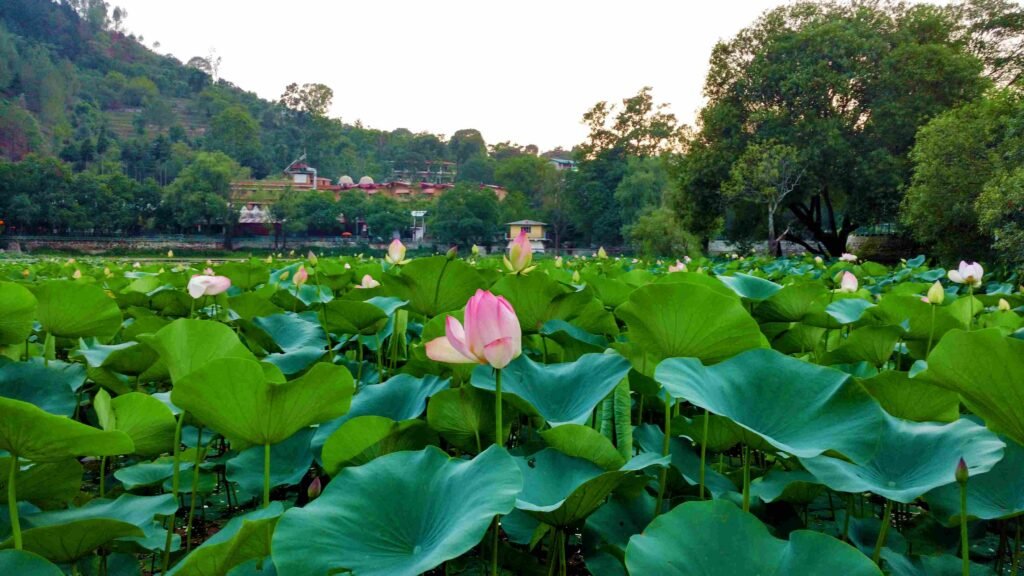 Kamaltal
The name itself speaks about this prettiest lake- Kamaltal. This lake can enthral you with its picturesque splendour even though there aren't many things to do nearby. It is well renowned for having vast amounts of lotuses dwelling there. It is found next to Naukuchiatal.
It goes without saying that you should plan your excursion for when the lotuses are in bloom. In this lake, you'll have the good fortune to see colourful fish.
And don't forget to witness the myriad of nature at this stunning lake.
Garudtal
Situated at an altitude of 4500ft, this lake is actually one of the seven interconnected lakes that make Sattal. Also known as Pannatal, this lake has a bit of quiet surrounding making it different from other lakes. Set amidst the dense forest of Oak and Pine trees, this lake is believed to have mythological legend related to the Mahabharata era.
It is believed to be the same lake where Dharma tests the Pandava brothers as they come to drink the water and where they all fail except for the fastidious, ethical Yudhisthira.
You can surely check out the hiking trails nearby.