An Eye For Turning Fabric Into FABULOUS MASTERPIECE
Some tailors are just born with an inexplicable knack for fashion and an eye  for turning a simple sheet of drab fabric into a fabulous masterpiece, just waiting to be worn. Known as the "best of the best" in bespoke custom tailoring, Fazal Mohammad started his own shop in 1954, amidst hustle bustle of the city- Paltan Bazar. 'Fazal' means blessings. Indeed, he was a blessing for all those who wanted to have some amazing fit tailoring. His expertise gained him innumerous customers, who always visited him for all their tailoring requirement. But, after his unfortunate demise, their was some drop-down in his customers. His business was overtaken by his son, Zahid Anwar, who was merely 18 years of age, at the time of his father's demise. Within a very short span of time, he was able to gain huge customers. This was all due to his hard work as well as his ability to offer the best to every customer. He offers a style message that captures consumers with its intensity and reflection of contemporary desires. He has created a timeless collection of pieces, which boasts the perfect fit and the finest Indian tailoring culture.
This legacy continues, as Farhan Anwar, son of Zahid Anwar, is also putting his best foot forward in this work field. After studying fashion designing from INIFD, Andheri, he started working as assistant fashion designer at Libas- Riyaz Gangji. The sky is limit for this young emerging designer. He has also worked as assistant fashion designer for some well known Indian movies: Jagga Jasoos, ABCD-2 & Satyamev Jayate. He has also designed the wardrobe for celebrities like Mika Singh, Varun Dhawan and many more. After gaining mastery in this field, he came up with his new venture-Fazal The Designer. He believes that designing is the cutting-edge art of creating a different reality with its realm. It represents who you are with what you create.
So, if you wish to have a well curated outfit, you surely need to checkout this store. It's all their hard work and the quality that they offer, due to which they have two stores in Dehradun, where you can get your hands on their well-designed outfits. They believe that nothing is impossible if you remain focused as well as give the best of your abilities in any career field you choose to work in.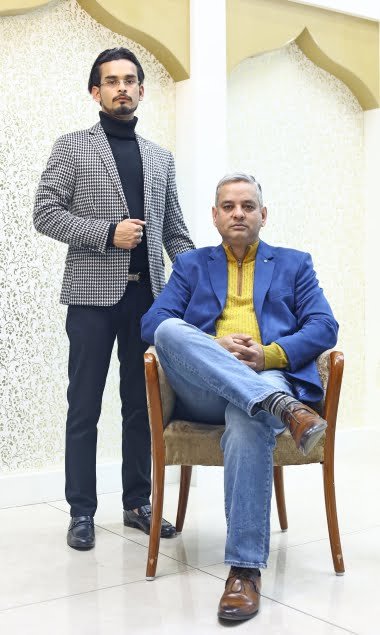 I Believe designing is the cutting edge art of
creating a different reality with realm. It represents
who you are through what you create
– Farhan Anwar